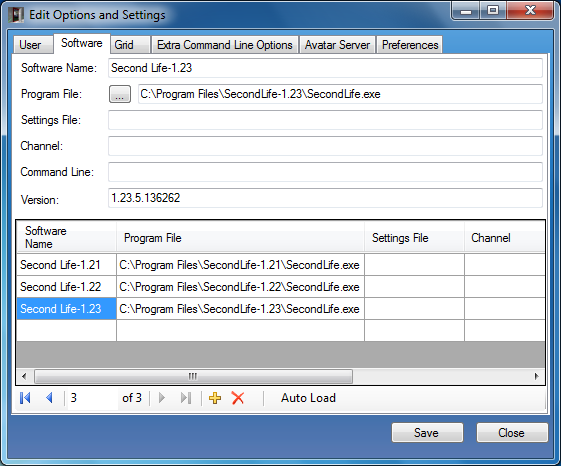 Setting up the Viewer/Software:
The Software Name and Program File are required.
To load the current Linden Lab viewers, press "Auto Load" on the tool bar. This will set up any official viewers that you have. (You may want to move any settings or channel command line options up to the separate options above, but that is optional, mainly for ease of reading and understanding if you have many different configurations)
Other viewers will need to be set up manually. Please make certain that you enter at least the name to use and the location of the executable.
The Settings file allows you to have different settings, even using the same viewer (for example, on set to max for photos, and one set to what your computer can normally handle for day to day).
The Channel allows you to tell the severs that this may not be an official viewer (or that you want to still log in with an older viewer that has had a required update, please only do this for old viewers if you know what you are doing!)

The command line allows you to specify any optional command line parameters that you always want to be applied (for example if you use the "Auto Load" from above, the Channel and Settings files, if needed, will be specified here by default).
Version is optional, and just for your information in this screen. It is added by default when you use "Auto Load". If you don't use "Auto Load", it is your choice whether or not to add it (it is useful for remembering which viewer is which version if you use multiple versions at once).